Picos de Europa:
a naturalist's paradise
- part 1
by Teresa Farino
The Picos de Europa is a small but spectacular range of jagged limestone mountains in northern Spain, harbouring an incredibly diverse flora and fauna.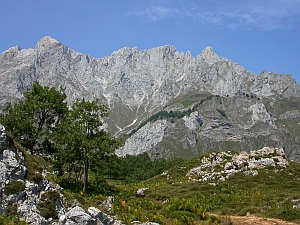 The Picos de Europa is one of those rare places in Europe today that combines magnificent scenery, a thriving rural economy and an enormous range of flora and fauna, the traditional methods of livestock farming practised here allowing wildlife to flourish alongside mankind. A veritable pincushion of knife-edged ridges and pinnacles - the heritage of localised glacial activity and ongoing karstification - peaks at 2,648m (Torre Cerredo) and is split into three distinct massifs by precipitous gorges.
In part a parque nacional of 64,660ha, the Picos de Europa houses more than 1,400 species of vascular plant,
© Teresa Farino70-odd mammals and 154 butterflies, such that even a brief visit in early summer will make a lasting impression. In addition, the Picos de Europa supports healthy raptor populations, harbouring around 130 pairs of griffon vulture (plus numerous immature birds: a total of around 400 individuals), as well as several pairs of Egyptian. The eagles are represented by golden, short-toed and booted, the latter two in fair numbers throughout, while honey buzzard, goshawk and sparrowhawk are all common in forested areas. Breeding black kites are particularly abundant in Cabrales, hobbies occur in the drier habitats around Potes and peregrines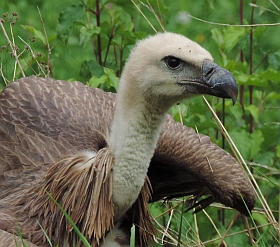 © Teresa Farinoare regularly seen preying on choughs around Fuente Dé.
From May to early July, the haymeadows of the Picos de Europa are simply glorious: some of the richest temperate grasslands in the world, literally teeming with orchids and butterflies. Add to this the faunal and floral delights of the alpine rockgardens and the diversity of woodland types in the surrounding valleys - ranging from Mediterranean evergreen forests to cool, humid swathes of beech and sessile oak, from mixed deciduous canopies of ash, wych elm and small-leaved lime to extensive tracts of Pyrenean oak - and you have the recipe for the perfect natural history holiday.
Flora & Fauna of the Picos de Europa
Over the past 30 years, Teresa Farino has compiled a report (more than 100 A4 pages) that includes lists of all the mammals, birds, reptiles, amphibians, butterflies, dragonflies, beetles, grasshoppers & crickets, spiders and vascular plants ever recorded the Picos de Europa, plus an eight-page introduction to the natural history of these mountains. If you would like to purchase a PDF copy, the price is 12 € (or the sterling equivalent). Please contact Teresa for further details or to place your order.