Spain: birds and birdwatching
- part 2
by John Muddeman
Seabirds and allies in Spain
Given the immense length of the Spanish coasts, including the Canary Islands, it is no surprise that the variety of breeding and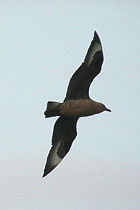 Great Skua
Catharacta skua © John Muddeman migrant seabirds is particularly high in a European context. In addition to the apparently endemic Balearic Shearwater, large numbers of Cory's (two subspecies) and many fewer Manx, Yelkouan and Little Shearwaters, plus Bulwer's Petrel and White-faced, European and Madeiran Storm-petrels also breed. Great and Sooty Shearwaters and Wilson's and Leach's Storm-petrels are also regular on passage, albeit mainly offshore. Additionally, one of the best seawatching points in Europe is in NW Spain. Birds cutting across the Bay of Biscay while heading south catch the north-facing capes at e.g. Cabo de Estaca de Bares and large numbers of Northern Gannets, shearwaters, ducks, waders, all four European breeding skuas, gulls, terns and auks pass mainly in autumn.
Regarding other 'sea' birds, Spain is outstanding as the global breeding stronghold of Audouin's Gull, and small colonies of Slender-billed Gull are also present in select southern coastal wetlands. European Shags of both the European Atlantic and Mediterranean races are resident in their respective areas. Terns include strong populations of breeding Gull-billed (inland) and wintering Caspian, while Lesser Crested Tern is only regularly seen on migration in Europe in the Strait of Gibraltar. Wintering birds include most of Britain's Atlantic Puffins in the western Mediterranean and large numbers of Razorbill and Common Guillemot also pass and winter off the coasts where Common Scoter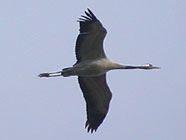 Common Crane
Grus grus © John Muddeman are locally abundant. Red-throated, Black-throated and Great Northern Divers all reach their southernmost regular limits along the N Iberian coasts, along with a few Horned Grebe (which is a rarity in the rest of the country).
Wetland birds in Spain
Other winter visitors, mainly at coastal or inland wetlands include the majority of ducks to be found in Europe, excluding a number of far N species. Red-crested Pochard and Marbled and White-headed Ducks maintain important breeding populations, though the second is in a precarious state and the last is still recovering after a critical minimum of just 22 birds in the 1980s and is threatened by hybridisation with the introduced Ruddy Duck. Ferruginous Duck stills breeds at a couple of spots, though is still extremely scarce, even in winter. Large numbers of Greylag Goose also occur in winter in select wetland areas (e.g. Villafáfila, Doñana), with small numbers of much scarcer species accompanying them (e.g. Bean and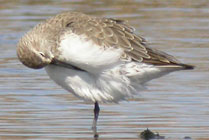 Curlew Sandpiper
Calidris ferrugineus © John Muddeman Greater White-fronted Geese), with a smattering of rare species turning up annually (e.g. Pink-footed Goose).
The wetlands -especially in the S half- of Spain are also important for other large birds, from the striking Greater Flamingo and gregarious and increasing, but still very local Glossy Ibis, through a range of species including Black Stork (C & SW), Eurasian Spoonbill, Great and Little Bitterns, Black-crowned Night, Squacco and Purple Herons, Little and (in winter) increasing numbers of Great Egrets. Common Crane winters in large numbers in certain areas, often roosting at the large lakes, while Spain is also important as the only European country supporting a remnant and partly reintroduced population of Red-knobbed Coot (in Andalucía). Though always difficult to see, Spotted, Little, Baillon's and Corn Crakes all occur, though largely on passage, while
Black-tailed Godwit
Limosa limosa © John Muddeman Water Rail is much more widespread. Smaller birds of these habitats include Yellow Wagtail (of the iberiae race) and a series of warblers, including Zitting Cisticola, Cetti's, Savi's, Moustached (very local), and Great Reed Warblers, Bearded Reedling (E half of Spain only), Eurasian Penduline Tit and Common Reed Bunting (subspecies witherbyi and lusitanica).
Waders of a wide variety can be found both at selected inland and coastal sites, including important breeding populations of smart Black-winged Stilt and Pied Avocet, charming Collared Pratincole and Little Ringed and Kentish Plovers. The number of migrant and wintering species is much higher however, with remarkable diversity even at some inland sites on passage (e.g. Azud del Río Lobos and the lakes of La Mancha). Given the warm areas in the S, species often thought of as wintering in Africa stay in small numbers throughout the winter, e.g. a few Eurasian Dotterel inland near the S coast and Little Ringed Plover, Temminck's Stint, Curlew, Marsh and Wood Sandpipers & Spotted Redshank. The country also acts as a winter haven when C and N Europe freeze over and Grey Plover, huge numbers of European Golden Plover, Northern Lapwing and Common Snipe, Sanderling, Little Stint, Dunlin, Eurasian Woodcock (also breeds), Black-tailed and Bar-tailed Godwits, Eurasian Curlew, Green and Common (also breeds) Sandpipers and Ruddy Turnstone all regularly winter. Scarcer species include Jack Snipe, Purple Sandpiper (N coasts), Ruff at various sites, Whimbrel (mainly Atlantic coasts) and Common Greenshank (± throughout).